We recently scored a major victory for housing affordability and production in our region. Through research, coalition building and advocacy, we successfully increased the Regional Housing Needs Assessment (RHNA) from 400,000 to 1.3 million units for the LA region and made sure those units were allocated to areas that are opportunity rich with jobs and transit.
Establishing housing production goals that reflect the actual need is an important step toward addressing the housing crisis. This is why RHNA has been at the top of our advocacy agenda. We published a white paper last year that provided a framework for how to push for an accurate housing production goal. We have more progress to make but are pleased to see that our research shaped policies to help our region's housing crisis, create jobs and increase sustainability. The recently released McKinsey Global Institute report once again shows the need for more solutions to build housing more efficiently.
In the midst of this housing crisis, there has been a range of proposals -- from a vacancy tax to the establishment of anti-displacement zones. While we understand these well-intentioned efforts, we cannot ignore that we simply need to the increase the housing supply to truly solve the crisis. This basic fact often gets lost in complicated policy discussions about housing, especially when we focus on narrow solutions.
At CCA, we use data-driven research to diagnose the problems leading to our housing crisis. Therefore, we want to highlight three fundamental facts about the state of housing which helps guide our housing policy efforts.

1. We're not building enough housing.
We're proud that DTLA accounts for one-third of all new apartments built in the city over the past decade. However, as you can see from this historical data, the city as a whole has not actually been building enough housing. In fact, over the past two decades, we've built about 7,700 units per year on average compared with 22,000 units per year on average at the peak of housing production between 1960 to 1979. Stated another way, we've only built one-third the amount of housing that we did during our peak housing production years. The housing deficit gets larger each year that we build less housing and underestimate the housing goal. We keep falling behind.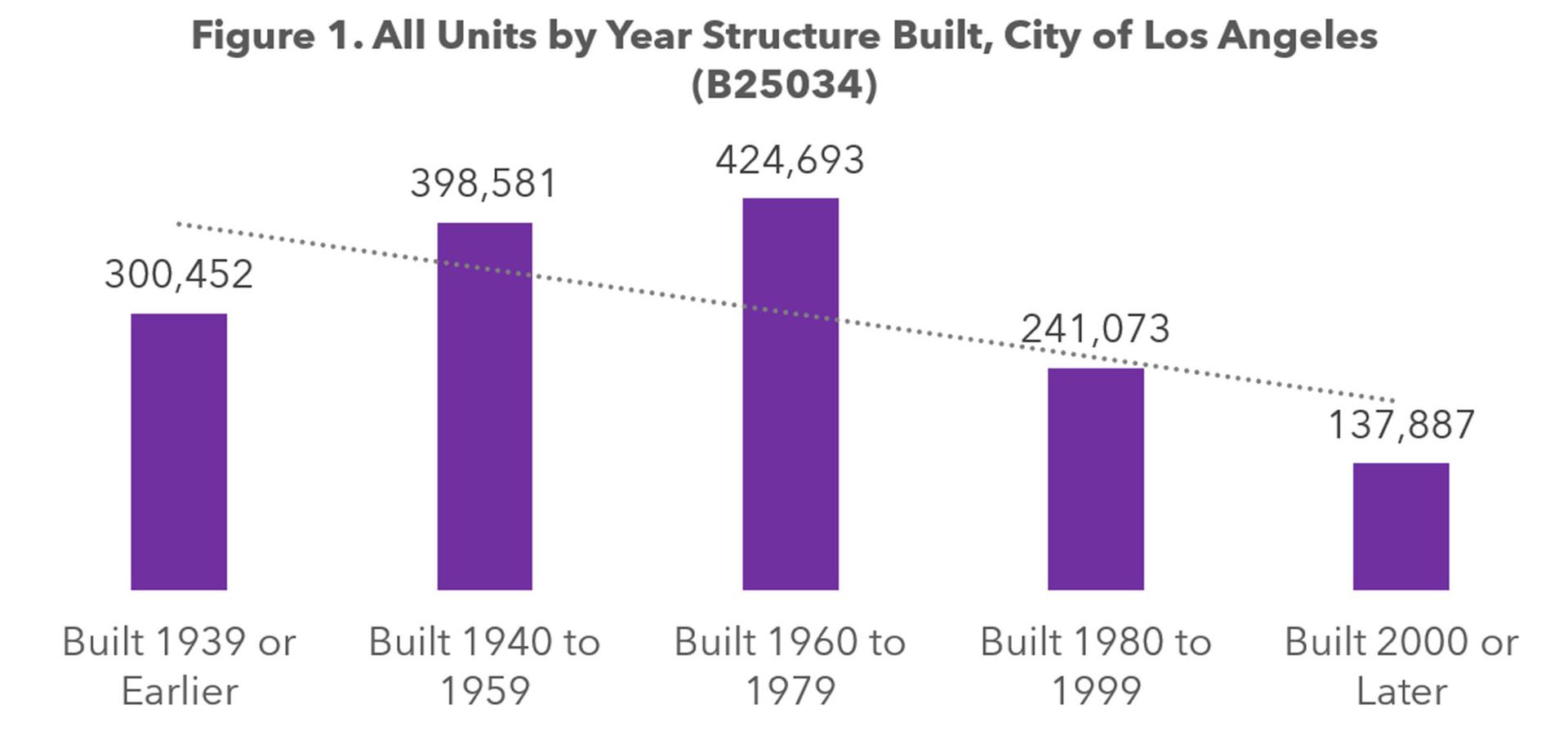 2. Today's market-rate development will be the affordable housing of the future.
When we see the high rents that new developments are charging their tenants, it can feel like new housing is being built only for the few that can afford it, which has some truth but is missing the bigger context. First, when someone rents a brand-new unit, it means they are not competing with someone else to rent an existing unit. New housing makes existing housing more affordable. Second, most items that are new (cars, appliances, computers, housing) are more expensive than the old versions of those same things. This figure shows that newer housing is more expensive than older housing. This means that the housing built in 1940-1979 (which was likely the most expensive housing when it was built) is currently 40-47% more affordable than more recently built housing. We believe we need housing affordable across all income levels, meaning that 100% affordable housing, mixed-income housing and market-rate housing are all part of the solution. The more we build today, the more affordable housing we have in the future for ourselves and future generations.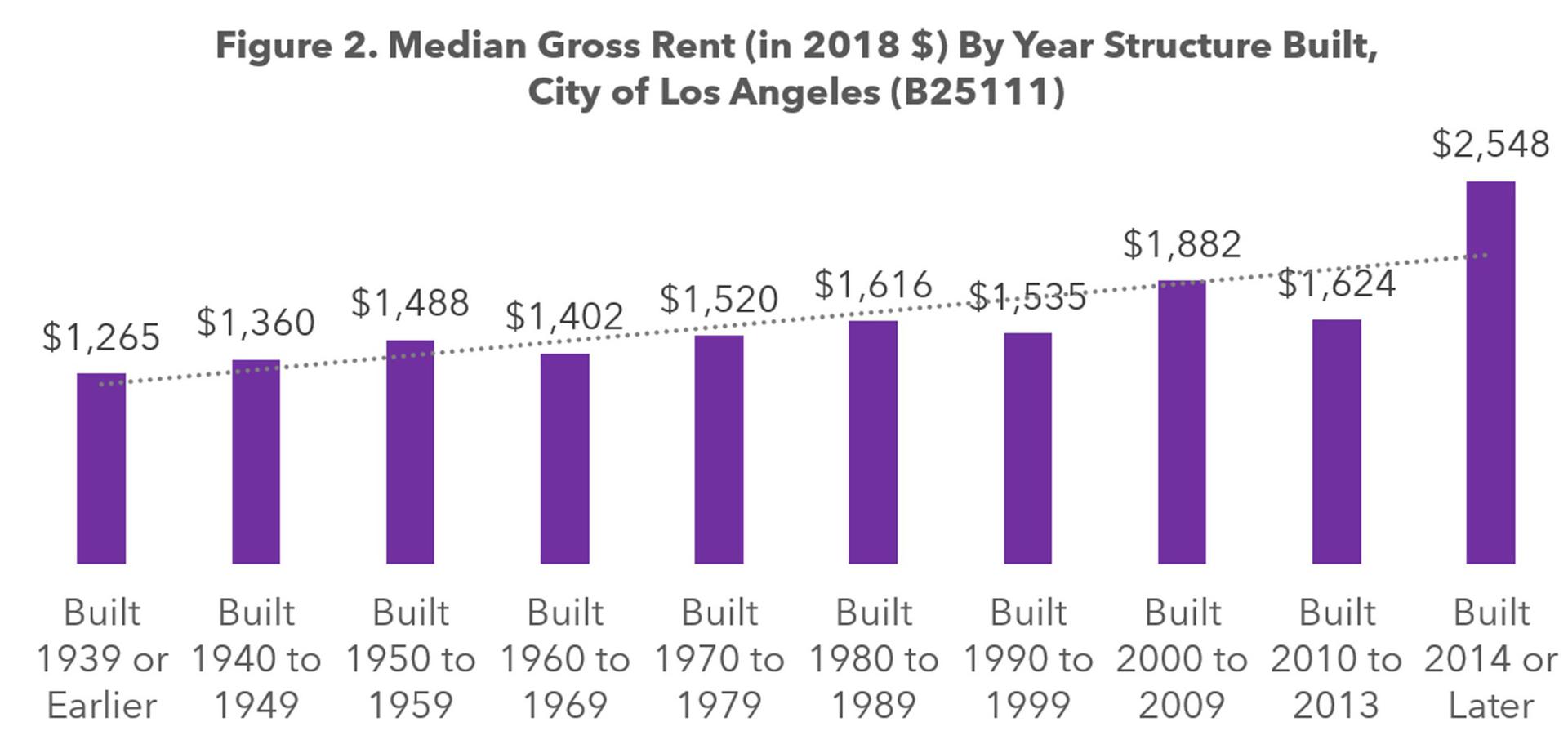 3. All housing is becoming luxury housing, because we are not building enough overall housing.
As discussed before, older housing units are generally less expensive than newer units. However, because there hasn't been enough new housing added, this has made all housing considerably more expensive. Figure 3 shows how rents increased between 31-38% in the 12-year period between 2006 and 2018 for buildings that were built around the same era. Our low levels of housing production are making buildings that should be naturally affordable, increasingly unaffordable.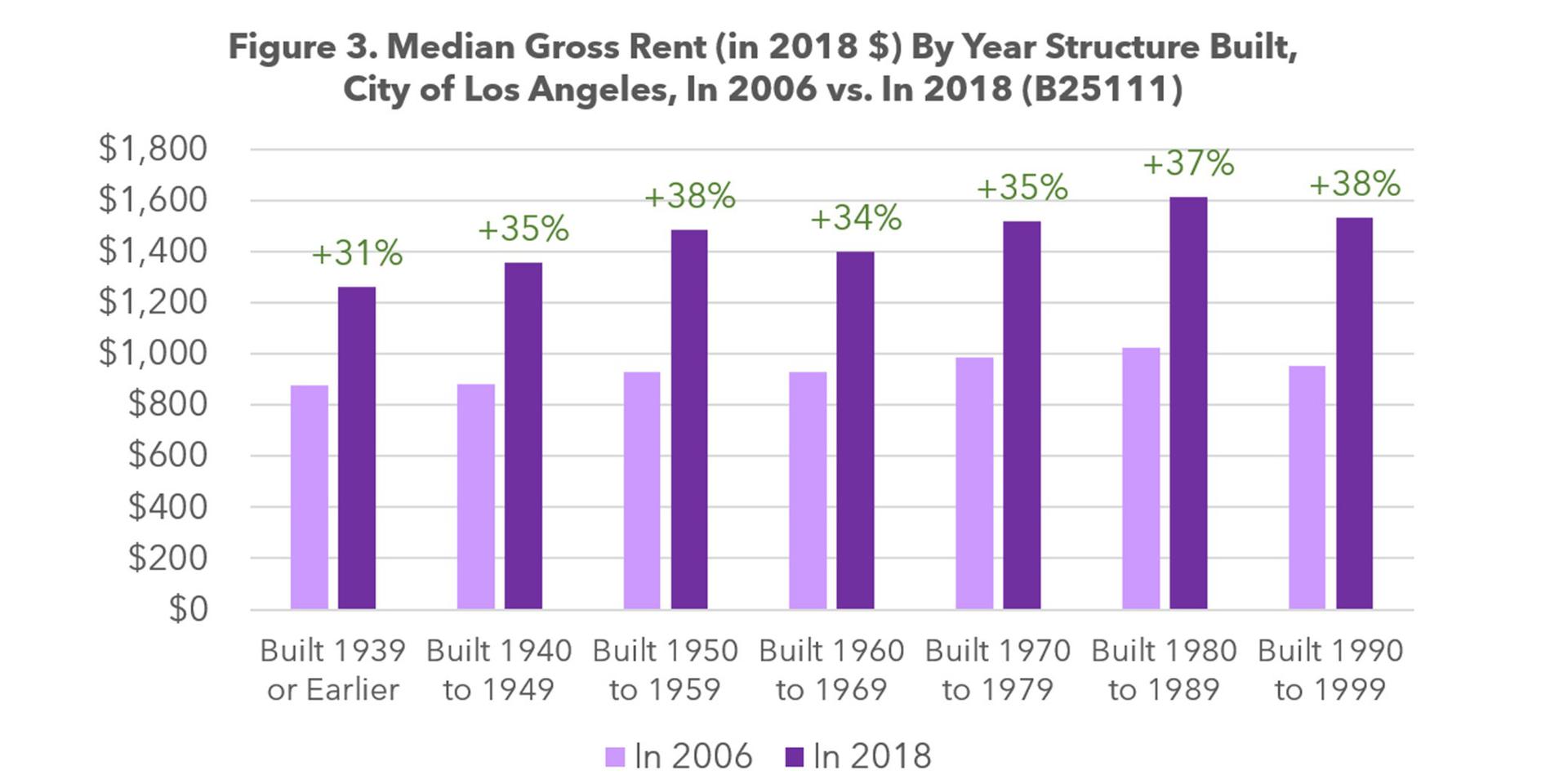 Housing is one of the most important issues to address for a livable and vibrant city. Far too many Angelenos are rent-burdened and are being pushed into homelessness each year by rising rents and home prices, among other causes. Building housing not only creates places for people to live, but it is important for job creation, sustainability and investment in cities. Confronting the housing crisis with ambitious housing goals grounded in facts is the first step forward in this fight. The next step is committing to building housing where it's needed most -- close to transit and jobs -- which is why we will continue to engage in the RHNA process and push for important legislation like SB 50 in the year ahead.

Sources for Figures 1-3: US Census Bureau American Community Survey (ACS) 2018 1-Year Estimates